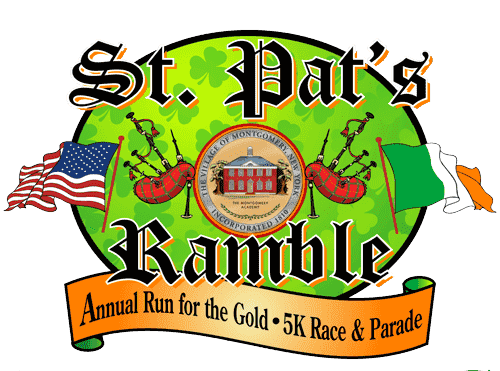 Save The Date!
March 20, 2021
Our annual RUN FOR THE GOLD 5k RACE is ON!!!
Our committee has been working together over the last few weeks to come up with a plan to make sure that we can follow all the protocols needed to host a SAFE race. The race will take place on Saturday, March 20th and will be done in smaller "waves". You will also have the option of participating in the race virtually.
More details and registration info to follow very soon!!!
With that being said, I'm sure you are all wondering about our AWESOME parade.  Unfortunately, at this time we will not be able to host our parade in March, BUT (if all is well in the world) we will be hosting our annual St. Pat's Ramble parade on Saturday, OCTOBER 2nd!
Throughout the months leading up to the Race & Parade we will be acknowledging all of our sponsors who contributed to the Ramble in 2020. If any local businesses would still like to sponsor, please reach out to me directly, so I can work with you on how to make a donation.
We are looking forward to a safe, wonderful race and future parade and can't wait to see all your smiling faces on our Village streets!
Our Ramble Raffle & Community-Athletic Scholarship info will be available soon as well!
It's so good to be back!☘️.