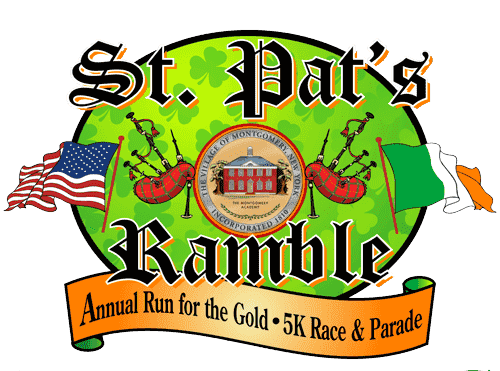 ARE YOU READY TO RAMBLE WITH US?
October 2, 2021
Join us for the 8th Annual St. Pat's Ramble Parade!!!
We are pleased to announce that the 2021 Village of Montgomery St. Pats Ramble Parade is a go for October 2, 2021. The event will take place at 1:00 PM as usual. The lineup and parade route will take place in its typical locations (Union Street).
The long delayed, but much anticipated parade, promises to be a TON OF FUN & Orange County's premiere Fall event!!🥁☘️🎷☘️🎺
Can't wait to see everyone 💚
Tickets are now available for the September 26th
St. Pat's Ramble Grand Marshal Reception!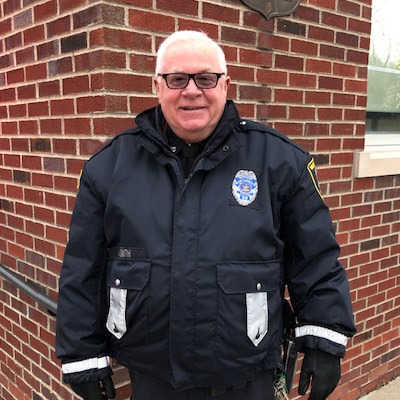 Prior to the reception please join us at Mass at 11:30am on Sunday, September 26th at Holy Name of Mary-Assumption Church, where we will honor St. Patrick and recognize Jack Smith. Following the mass, The St. Pat's Ramble Committee will host a Grand Marshal Reception in honor of Jack. The reception will take place at 6:30pm at The Table, 73 Clinton St, Montgomery.
OR you may contact Cathy at Devitt Management at 845-457-9666.
🌟REGISTRATION NOW OPEN🌟
🟡THE COPPER OPEN🟡
Pickleball Tournament!
Presented by Dana Distributors & Michelob Ultra
SATURDAY, OCTOBER 9th
(Rain date October 10th)
☘️All proceeds to support The St. Pat's Ramble!
Mixed Doubles (1 male & 1 female per team)
$70 per team
Registration & Payment to secure your spot
Prizes to 1st & 2nd place teams (Gift Certificates-1/4 Zip hoodies)
Must choose:
Championship Flight (For the more serious)
Regular Flight (For those looking to have fun)
Payment:
Check written out to "The St. Pat's Ramble" with "Copper Open in memo
Cash (To Amy McKenna or Paul Satkowski)
All Participants will receive a Swag bag with a Copper Open
T-shirt and treats!
Many people have expressed interest in participating in this tournament. Due to the fact that there will be limited spots, there will be no refunds and your team will not be entered until payment is received.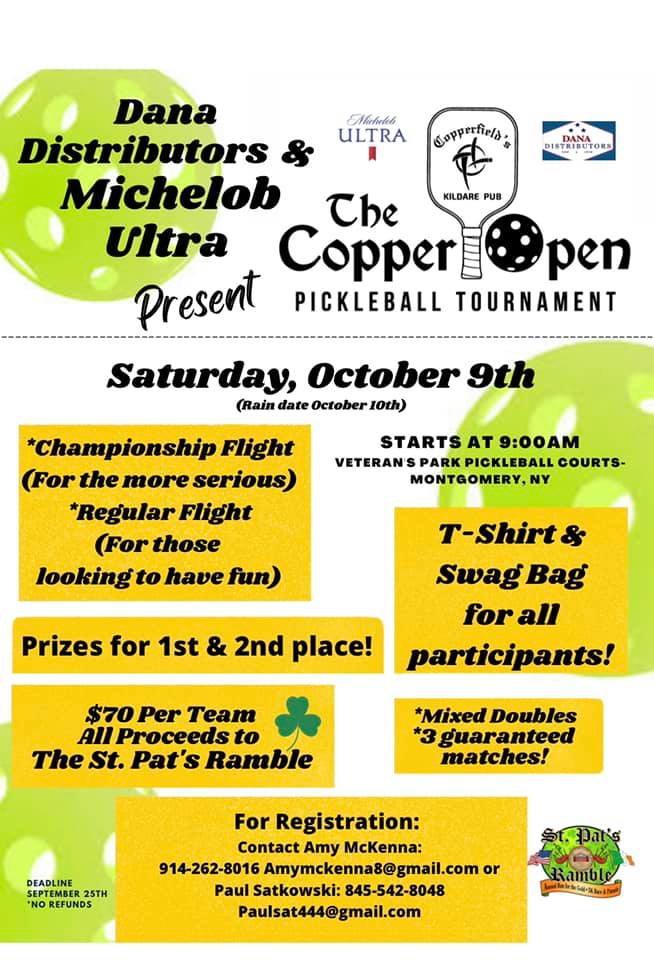 Names of players, A Team Name & T-Shirt sizes of players will be needed when registering. You may also register at Copperfield's Pub. *See Paul
We will also be having a registration booth located in front of Copperfield's Pub, on Montgomery Day, Saturday, September 11th!!!
SPONSORSHIP OPPORTUNITIES AVAILABLE
Try your Luck Thursday!!!
The Ramble Committee members still have raffle tickets available!!! They are going FAST!
The Committee would like to take a moment to thank everyone who purchased a Raffle Tickets back in 2020. All previously purchased tickets will carry over to our 2021 event! Which is taking place on October 2nd!!☘️
Tickets can be purchased from any of the committee members, at Copperfields Pub or contact Cathy at Devitt Management (845)457-9666 to make arrangements for pick up. Payment can be in the form of Cash or checks written out to the St. Pat's Ramble with "raffle" in the memo.
So with all that being said….
This is your weekly reminder to Text, Call, Message or Email me or any of our committee members for your Raffle tickets!!
$100 each with lots of prizes
1st -$4,000
2nd- $1,500
3rd-$500
4th- (2) $250
5th- (5) $100
ONLY 150 tickets sold! Grab one while you can! Drawing will take place at The Ramble PARADE on OCTOBER 2nd-Winner does not have to be present…